K.Michelle Cries Profusely In Hospital, Rushed To ER For Horrific Reaction To Butt Injections
Posted On : April 12, 2018
Singer, K. Michelle, has been going THROUGH it lately, over her silicone injected butt enhancements and her latest problem had her in serious fear for her life. K. is never one to hold back many aspects of her private life, so it was no different when she posted a tearful message online, to alert fans of what has just landed her in the nearest emergency room…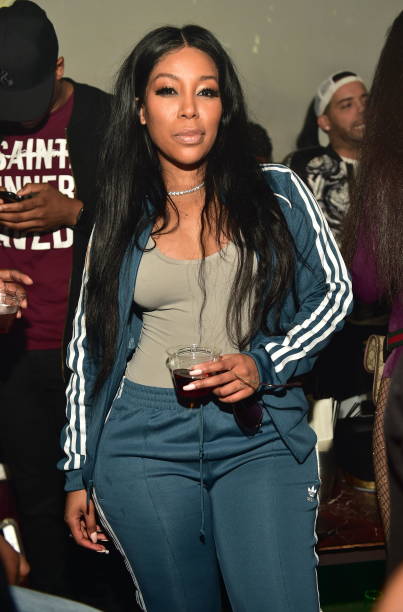 K. Michelle Cries Uncontrollably From Hospital Bed
As most of already know, or else can simply tell, by just looking at her, K. Michelle has made it no secret that she's had more than a little silicone enhancements added to her butt. In recent times, she's began to share the different problems they'd been causing her. Unfortunately none of her aforementioned problems were as life threatening and scary as what she just cried about on Instagram live the other night. She ultimately had to have emergency surgeries, blood transfusions, and more…
As K. Michelle laid in a hospital bed, via IG Live, she cried uncontrollably and said this:
https://www.instagram.com/p/BheWmRnFKaF/
K. Michelle Gives Details Details On What Exactly Happened To Her
In a later online update, K. Michelle then explained exactly what landed her in the ER:
"Jan 12 I started a journey to correct a mistake I did over 6 years ago. The first surgery went well so we thought until my body started to shut down while I was on tour. For 26 cities I was on steroids to walk and keep down infection causing me to get off stage and be rushed to ER over 4 times and then the next day back on stage. I later found out the silicone had spread and I would be rushed back into surgery. Last Wednesday I entered surgery barely functioning with my legs and an infection. The surgery to remove all of this from me lasted a long 6 hours. The following days were spent with paramedics until i they realized my blood count was severely low and I was rushed into ER where I was admitted."
She continued:
"2 blood transfusions later I've been released and started therapy today heal and walk. I have the most skilled and amazing reconstructive surgeon in Beverly Hills and I'm blessed to be here. It hurts my heart to know there are girls out here who can't afford to have the best and are just sitting around in pain and infection. I thought I was strong but this changed my life. I saw my life flash right in front of me. So many so called friends and family where no where to be found in this dark hour. People I've given my last 2. NO WHERE.? Only a few where there like @moniece_slaughter @erndukes@akbar__v, @richardlomaxbeauty, Ken, Myisha, management, my nurse Denita and my MOM by my bed every night. People had to work and were to busy be there for me. Please don't try to call me now. I have no hate in my heart but I have no room for you. To those people who have lied on me and still continue to hurt me, I forgive you. I gotta be here for a reason now and fighting with you isn't it. Slowing my life down now taking my time with my new music there are songs and truths 2 b told. I will sing them. But in my own time and way. My son needs me. Oh and those twins I want can FINALLY come This year because I'll be able to actually pick them up. The small things matter most now🌻"
As y'all can see, K. Michelle was seriously scared for her life. So we're glad she's okay now and on the road to recovery. In fact, it seems like the 'regular' K. Michelle is already back, because even in the midst of her physical pain, in true K. Michelle fashion, she still managed to keep it 100 and call out all people who she felt did her dirty during her time in need.