Quincy Jones Has 22 Girlfriends, Says He's A Dog w/No Use For Women His Age, U Gotta See This
Posted On : January 30, 2018
In his 84-plus years on the planet, music legend, Quincy Jones, has worked with pretty much everybody who is anybody in the music industry. He recently sat down with GQ Magazine for a candid conversation, which covered everything from his childhood, to the time he met the Pope. But a surprising revelation about his love life has folks raising their eyebrows. Jones said that he has 22 girlfriends in countries around the world— and they all know about each other. Yep, you read that right, see what he said about this below…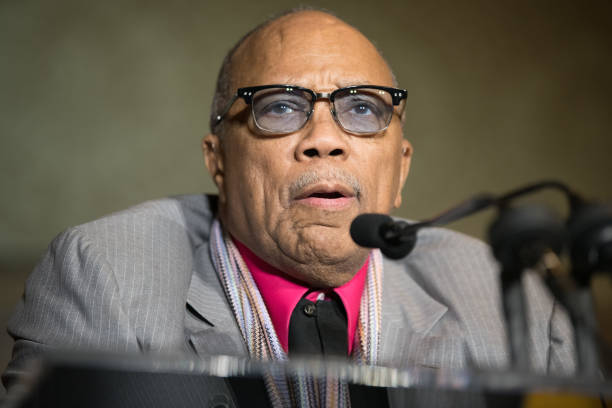 Quincy Jones Speaks About His Many Women & How He Gets Away With It
"I was married three times, man. Was told not to marry actresses or singers," Jones told GQ's Chris Heath. "I ended up with two actresses, Peggy Lipton and Nastassja Kinski, and a superstar model. I didn't listen to all the advice."
Jones said that he groans in different time zones. His girlfriends live in Cape Town, Cairo, Stockholm, Brazil, and Shanghai among other places. Apparently, these women don't mind sharing him and know how to stay in their lanes. The secret to having so many willing participants in his very open relationships is brutal honesty, as Jones explains below…
"Yeah, I don't lie," Jones continued. "And it's amazing– women get it, man. Don't you ever forget they're 13 years smarter than we are. Don't you ever forget it."
Quincy's Daughters Laid Down Ground Rules
Q said that his daughters, Kidada (43) and Rashida (41), won't let him date women younger than they are, but he likes 'em young. They compromised, so his girlfriends now range from ages 28 to 42 years old. Jones said that there are no advantages to dating women his age–none.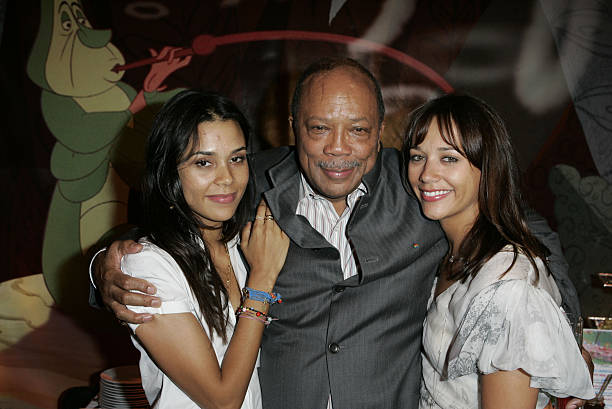 "You see me with an 84-year-old woman? Are you crazy?" Jones asked. "For what, man? There's nothing… there's no upside. You gotta be kidding. I got me some technology out there that keep fat and old away from here. Buzzes if they're too old. But you'd be surprised… These women, the young ones, are aggressive now. Oh my God, they're fearless, man."
Jones Explains Why He's A Self Proclaimed Womanizer
Because his mother was taken from him and hospitalized for mental illness when he was seven years old, Jones said that he has been a dog his entire life, where women are concerned. But his karma is that God gave him beautiful daughters whom he admittedly fears will run up on men like him.
Jones on His Current Sex Drive
And in case you're wondering how an almost 85-year-old cat can keep up with 22 women, Jones said that his sex drive has not waned one bit. He has also spent six days a year, for the past eight years, at an exclusive hospital in Stockholm, where doctors use cutting-edge medical technology to sustain and prolong his life. Jones said that doctors are confident that he could easily live to be 100 years old.
With all of the projects that he has lined up, Jones plans to remain very active in both his professional and personal life. And while he is still here, he vows to enjoy every last minute:
"I feel like a child, man," Jones said. "I'm just starting."
And there ya' have it ILOSM fam.' Apparently, if it ain't broke, Quincy Jones sees no reason to fix it.