Cougar Alert: Keyshia Cole Defends Dating Her Very Young Rapper Boyfriend & Fans Sound Off
Posted On : March 29, 2018
At the age of 36 and one divorce later, singer, Keyshia Cole, is out here happily giving us "How Stella Got Her Groove Back" vibes. For the past few weeks, rumors have been heating up the internet, that she was dating a cat who's young enough to be her nephew, so to speak. There were a few photos surfacing 'round the internet of the two having a blast on water jet skis and such, but still no confirmation from Cole on the matter. But now, she's steppin' out with her young boo-thang and does not care what anyone has to say about their love.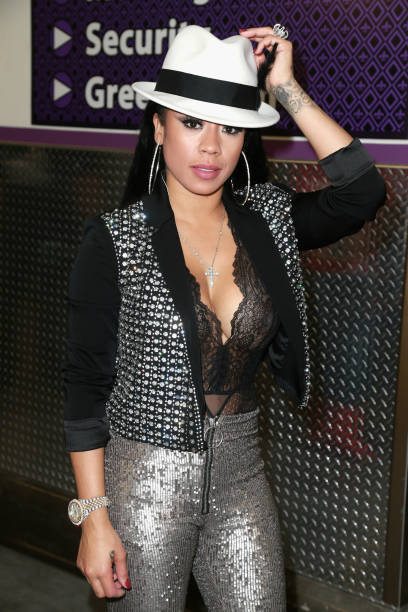 Keyshia's Confirmation…Shows Off Young Boo
Meet the new love of Keyshia Cole's life, Niko Khale. He's a 22 year old up and coming rapper, who loves him some her. Keyshia was 14 years old and already pursuing her music career at the time of Niko's birth. Niko was just 9 years old when Keyshia released her debut album, "The Way It Is," in 2005 and he was just months old when Keyshia's mentor, rapper Tupac, was murdered in 1996. However, for Keyshia, "age ain't nothing but a number, but an excuse," which is the caption she used to recently post on Instagram about her new man. In the post, Niko was seen sitting in Keyshia's Rolls Royce, rapping about his love for his older woman, in a song titled, "Age Ain't Nothing But A Number," much like the one R. Kelly produced and wrote for Aaliyah back in the day. Check it out below…
https://www.instagram.com/p/BgnAqShHKrV/?
This wasn't the first time Keyshia posted her new boo, she also defended her love for him to fans who had been clownin' her decision to date such a young dude, a few days prior. In a random shout-out she decided to give Niko, Keyshia called him the 'pepper to her salt,' while simultaneously accepting the public apology her sister, Neffe,' had given her on Instagram days ago. Here's what Keyshia wrote:

keyshiacole: Here in Oakland, A lot of things going on right now, My father that I just met (Not too long ago) is in the hospital, and that's REALLY DIFFICULT to deal with right now, amongst other things. ALWAYS a GOOD feeling to have support and Love from the people close to you. Oh and Neffe I did receive your PUBLIC apology, and I understand why you went PUBLIC with it. And I thought I should RESPOND PUBLICLY, because our lives have been VERY PUBLICIZED, and I want you to kno, that I do love u back! ALWAYS WILL. And naw we haven't been close, and that's been going on for some time now, but I've BEEN forgiven you. I've forgiven mom and everyone I've felt, has failed me in my personal relationships❤️🙏🏽 only thing you need to do and worry about is, YOU AND THE BEAUTIFUL CHILDREN you've done an AMAZING JOB, raising. Now the reason I'm posting The pepper to my salt @nikokhale is because he's been such a sweetheart to me, and I kno people have been very judgmental about our relationship but I gotta nurture what nurtures me.!
Just in case y'all are wondering why Neffe apologized to Keyshia in the public's eye, it had something to do with the fact that Keyshia had apparently cut her out of her life for doing her dirty. Although Neffe didn't go into detail, she did plead with her lil' sis' to let her back into her circle:
https://www.instagram.com/p/BgeXli_nEhe/
Fans Give Mixed Reactions
Many of Keyshia's fans have been giving her props about her new love and encouraging her to say 'To hell' with the haters and naysayers, while others have been giving her the side eye. See some of the comments below…


Listen, it's understandable why their love may seem a little odd. But if Keyshia likes it, we love it. Do your thang Keysh!