Diddy Fights For "Black Excellence," Tells Secret Project w/JayZ That Solely Helps Black People
Posted On : March 21, 2018
In case y'all haven't been following Bad Boy mogul, Diddy, on social media lately, then you probably missed the fact that the brotha has been fully devoted to empowering African Americans in every way he possibly can. He pushes his social/motivational messages as "Black excellence" and makes no apologies for it.
Diddy, who is reportedly worth about $820 million, has millions of fans of all races worldwide. However, at age 48 and father of 5 wonderful Black children, Diddy thinks it is not only right, but it is an urgent necessity that he uses his platform and influence to push for equal opportunity and uplifting of Black people in today's socially/racially unjust climate.
In his recent interview with GQ Magazine, Diddy further expanded on why he's now being "unapologetically Black" and what secret project he has in the works with Jay Z, that will further help African Americans:
https://www.instagram.com/p/Bf8yTDij5jr/
"My culture," he said. "I want to be an authentic, unapologetic warrior for black culture and the culture of the street and how it moves. My thing is most importantly to change the narrative of the black race. I can't relate to anything that isn't about that."

He said he wants to develop an app that will allow users to look at a given city or neighborhood and see where the black-owned and black-friendly businesses are. He didn't want to say too much about the app. It wasn't finished. He didn't have a name for it yet.

"This is not about taking away from any other community," he said. "We'll still go to Chinatown. We'll still buy Gucci!" He laughed. "But the application will make it possible for us to have an economic community. It's about blacks gaining economic power." He and Jay-Z have been talking about this, he said, about moving the race forward actively, by means of: making a lot of money and putting it back into the community.

"I don't believe in passiveness," Love said. "At some point there has to be some kind of fight. I feel like we've done a lot of marching. It's time to start charging."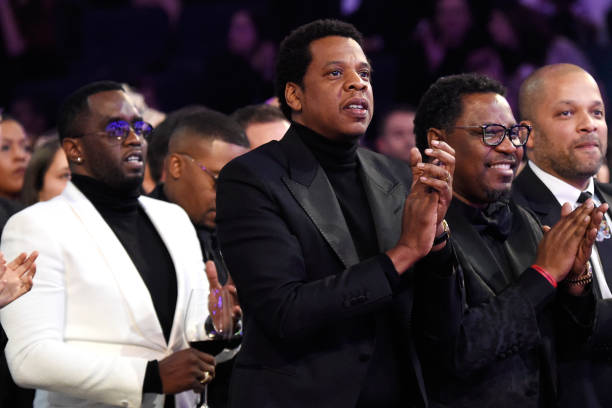 He further broke down his Black excellence conversations he's been having with Jay Z and their mission to create a psychological reconditioning of Black people and society as a whole:
In his conversations with Jay-Z, they've been using the term "black excellence" for leaders who came forward to uplift the race by example. It was an updated incarnation of W. E. B. Du Bois's "talented tenth," based not on class or lightness of skin tone this time but instead on getting and being extremely wealthy. And philanthropic. "We're into psychological warfare," he said. "The difference is, we're not trying to hurt nobody."
Diddy had a lot more to say in that same interview, including how he's still trying to process the murder of his homie, Bad Boy rap legend Notorious B.I.G., as well as the depression he endured 2 years ago:
I asked if he talked to a therapist about this stuff. "Nah," Love said, "I haven't dealt with any of that yet. I try to get into it, but…that's something that just hurts so bad. That's a time that's still suppressed."

He said that two and half years ago, he had become depressed. He'd developed an addiction to his phone. He felt "far away from God." He went to Sedona, Arizona.

"Where the vortexes are?" I asked.

"Exactly," he said, smiling. In Sedona he reconnected with his magic. He was hearing new songs in his head. "I'm not 100 percent knowing how to come up with the sounds yet," he said, but he felt almost ready to compete on the radio again.
Even in the midst of pushing through his personal battles on the regular, Diddy deserves much respect for making it his life's mission to also inspire and create opportunity for others through his "Black excellence" mission. Martin, Malcolm, James Baldwin, Gill Scott and so many other socially conscious icons of the past, would be proud.