Get It: Michelle Obama Cuts Up On Stage, Dances With "Empire's" Jussie Smollett
Posted On : May 7, 2018
Michelle Obama had us singing *in my Jodeci voice* "Forever our First Lady…" after seeing her do her thang on stage with Jussie Smollett (34) a.k.a. "Jamal Lyon" from "Empire." It all went down at the College Signing Day event in Philadelphia, Pa. and our 'forever First Lady' proved that at 54, she's still got it and knows how to represent for the Old School very well.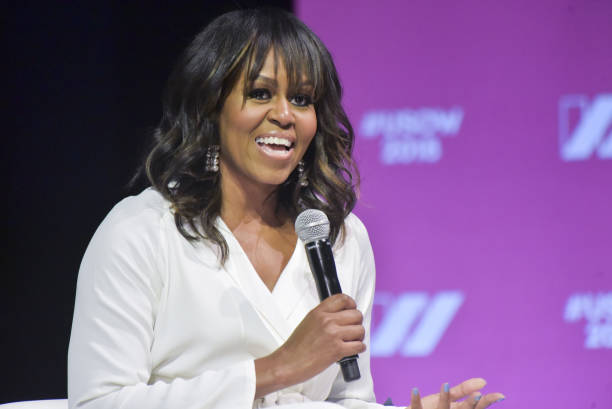 Watch Mrs. Obama Cut Up With Jussie Smollett
As Jussie was performing his song on stage at the event, Michelle Obama decided to join him. Y'all already know that former Pres. Obama's wife is never one to shy away from a dance floor. In fact, she'll turn any space into her own personal dance floor if the mood hits her, as she did during Jussie's set. The "Empire" star was happy and honored that Mrs. Obama hit the stage with him and tweeted this:
Jussie Smollett- "A lil dance yesterday w/ my 👸🏾@MichelleObama.💃🏿🕺🏾It's been a good week so far🙏🏿😬Thank you Mrs. Obama for always being so kind and just down. Proud of the 8,000 kids that came out for #CollegeSigningDay. It's just the beginning for y'all. #BetterMakeRoom #SumOfMusicTour"
Check out the video below:
https://twitter.com/JussieSmollett/status/992039263641522176
Michelle Obama Says She Will NOT Run For President
While we're on the topic of our 'forever First Lady,' Mrs. Obama was recently interviewed by actress, Tracee Ellis Ross (Diana's daughter), at the United States Of Women Summit. During that time, she put the stamp on why she will not ever run for president and she broke it down in the realest way possible:
"Well, that's a whole other story because, that's not the answer either. And when I hear people say, 'You run,' it's part of the problem. We still didn't get 'Yes, we can' right," Michelle Obama said. "It's not 'Yes, you can,' it's 'Yes, we can.' And until we get that right, it doesn't matter who runs." […] Change starts close to home. So looking for the next person to run … I don't mean to cut that off, but that's been our distraction," she said. "'We're going to wait for the next person to save us.' We thought it was going to be Barack Obama, but he didn't end racism."
Ah well, if you were hoping the Harvard educated, high powered attorney would be giving us a reason to be happy about who's in the White House again, Mrs. Obama just crushed that dream.
Sasha Obama Chillin' With Cardi B & Offset
On a side note, Michelle Obama ain't the only one in the Obama house who loves music. We already know her hubby is a self-proclaimed music lover and listed some of his favorite artists as Al Green, Stevie Wonder, and Kendrick Lamar. Their daughters love them some music and concerts too though. As When Rap Was Real recently reported:
Sasha is now 16 years old and the recent photos of her poppin' up at Washington, D.C.'s Broccoli City Festival, to chill backstage with Cardi B and Offset (of the Migos) has everybody talking. Why are they talking? Well, for several reasons…
1. Where in the hell did the time go?!! Sasha's facial features have matured and so has her overall look!
https://www.instagram.com/p/BiPzEdwB8Pf/
https://www.instagram.com/p/BiQE7e-nQz-/
2. Many wondered what was Sasha doing hangin' out with "Bodak Yellow" rapper and her rapper fiancee, Offset. Despite the many May-December comparisons we could make between Sasha's pampered, secret service guarded lifestyle versus Offset's and Cardi's street roots, it was actually pretty cool to see that Sasha loves raw, uncut hip hop.