Tamar Drops Bombshell, Tells What She Did To Satisfy Hubby's Preference Of Light, Blonde Women
Posted On : March 27, 2018
Here at I Love Old School Music, we learn something new about a celeb' everyday. Today is no different and the celeb' offering up such new information is singer, Tamar Braxton. She's been shakin' up the internet a lot lately- whether it's about her drama with estranged husband, Vince Herbert, her new shoved head hairdo, or drama with her Braxton family. This time around, Tamar took many by surprise with her latest revelations regarding her husband's preference for light skinned women and what she did to try to satisfy his desire throughout their marriage.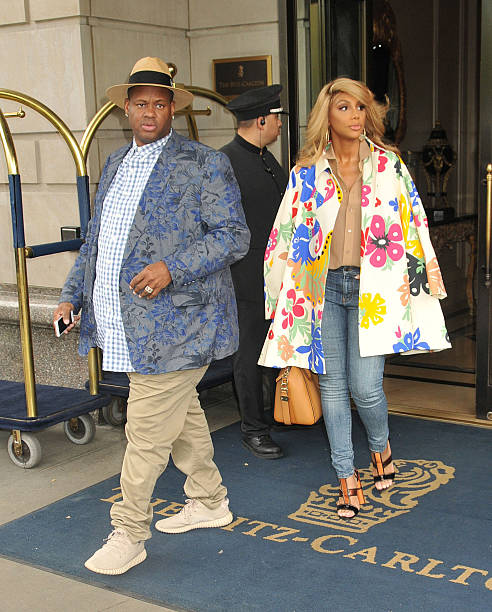 (VIDEO) Tamar Drops Bombshell
In a new interview on "The Steve Harvey Show," Tamar appeared alongside singers, Keri Hilson, and Kimberly Caldwell-Harvey (no relations to Steve), where they chopped it up about whether or not people should change their appearances- by losing weight, etc.- to please their partners. Kimberly was like 'Hell naw,' Keri and Tamar were like 'Hell yeah' and that's when Tamar decided to drop a mini bombshell revelation about what she's done- or rather DID- during her marriage to her soon-to-be-ex hubby, Vince.
https://www.instagram.com/p/BgpnnmWlVfb/
First they discussed losing weight for your mate:
Tamar- "It's not like you don't feel yourself slippin.' … I would rather my mate to come tell me that 'You lookin' a hot mess.org,' then for you to go out here and get you somebody who lookin' better than me, when you just could've had a conversation with me.

Keri Hilson agreed with Tamar- "It's important to me …to continue to be attracted. … Like what you fell in love with, who you met, when we met, I wanna stay as close that – what really reeled you in- as [much as I can."
Now that Tamar's apparently moving forward with her divorce, the newly, beautifully bald Braxton is out here lovin' life and her new hairdo, as if her theme song should be Patti's "New Attitude." On the flip side though, Tamar admitted, in the video below, that she wasn't always choosing what she preferred, when it came to her looks. She admitted she chose to please Vince's preferred attraction toward 'lighter skinned women, with blonde hair' instead:
Tamar- "I believe in being attractive for your mate. … I used to have all blonde wigs. I still have 150,000 [wigs] at my house, since I done shaved my head off…they're for sale by the way (LOL), 'cause I won't be needing them anymore. Vince liked blonde head, light, fair women. I just wasn't born with no blonde hair. But for me I just think that's a responsibility that women have- is to stay current for your man."
See what else they said in the video clip above.
The Problem With Vince's Request Of Tamar
Tamar and Keri made great points about why folks should try to bend a little to please their partners, in order to keep that physical attraction and sexual energy alive throughout the relationship. However, the issue that some have with Tamar's 'lighter skinned, blonde hair' accommodations for Vince are plentiful.
One of the main issues is that Vince seemed to have wanted Tamar to damn near do the impossible- reconstruct her genetic makeup altogether. You see, when Vince met Tamar (when she was 15), he didn't meet her as a 'fair skin, blonde haired woman,' Tamar BECAME a light-er skinned version of herself and eventually started rockin' blonde wigs for him during their marriage.
FYI: To be fair regarding Tamar's changing complexion, she and Vince did claim, in a prior interview, that her transforming lighter complexion was not the result of skin bleaching, but due to the skin disease, vitiligo.
(VIDEO) Tamar Talks Abuse During Marriage
https://www.instagram.com/p/BgzAbNkFrrK/
In addition to the physical alterations topic Steve Harvey discussed with the ladies, they also discussed if one should leave/forgive their mate after abuse. Tamar- who's mother, Evelyn Braxton claims Vince was physically abusing Tamar- had a lot to say about that topic too. Check out that video clip up top and let us know what'chall think.