Uh Oh…The 'Beyhive' Is Obliterating Wendy Williams Over Diss She Just Threw At Beyoncé
Posted On : February 20, 2018
Wendy Williams did what she does best on the Tuesday morning airing of The Wendy Williams Show and that is, she got folks riled up yet again. This time Beyonce's 'Beyhive' is hella pissed off with the talk show diva, over her diss to Bey and ultimate comparison to several other artists, including Mariah Carey, Aretha Franklin, and others.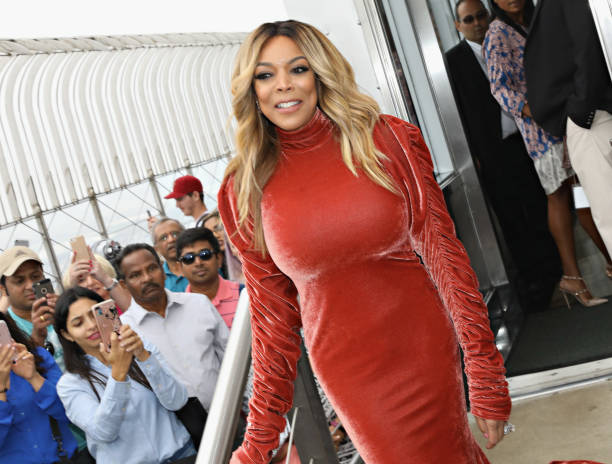 Wendy's Jab At Beyoncé
During the live airing of her show, Wendy talked about singer, Fergie's, disastrous rendition of "The National Anthem" at the NBA All-Star Game the other day. While doing so, Wendy stated the obvious- that Fergie needs to sing with autotune and then she went on to lists other artists she feels need to do so as well.
Who Wendy believes should only sing WITH autotune:
"There are only a few people who can sing raw-dog and Fergie is not one, she needs autotune," Wendy said and then added, "Jen[nifer] Lopez needs autotune and Janet [Jackson] needs autotune and Beyonce needs autotune."
When Williams was going through her list of autotune-dependent singers, her audience didn't quite disagree with her on J.Lo, Fergie, nor Janet Jackson. However, once when she added Beyonce' to that line-up, the audience loudly gasped, mostly in disagreement. To make matters even more interesting, Wendy also listed who she feels does NOT need autotune…
So which singers does Wendy Williams think could go without autotune? Here they are:
"Adele, Aretha [Franklin], Celine [Dion], Dionne Warwick, and Mariah [Carey], they don't need nothing — They sing raw-dog you know?" said Wendy.
Wendy Williams just said Beyoncé needs auto tune… pic.twitter.com/A3XYmaUaGj

— All Def Digital (@AllDefDigital) February 20, 2018
The 'Beyhive Strikes Back
Needless to say, after hearing Wendy diss Beyonce's incredible vocal ability- but praise others, like Dionne Warwick- the Beyhive went ballistic and commenced to chin checkin' Wendy all up and down their Twitter timelines:
WENDY WILLIAMS BEYONCE HAS AUTO TUNE WHERE??? pic.twitter.com/0jegNKBSot

— jr (@jr39475490) February 20, 2018
Wendy Williams: Beyoncé needs autotune
The Beyhive: https://t.co/AUg24DInYN

— daniel kay. (@AD1S1Tweets) February 20, 2018
Wendy Williams: " Beyonce needs autotune when she sings live

Me to Wendy: No the fck she don't #WendyWilliams #Beyonce pic.twitter.com/GWfU4LgHdA

— Esteban Julio Ricardo Montoya dela Rosa Ramirez 17 (@iidavidharrison) February 20, 2018
We all know Wendy Williams isn't the brightest but to say Beyonce of all people needs auto tune. I've never even heard her voice crack before. It's bitches out here that can't even hum on key but Beyonce needs auto tune? pic.twitter.com/aUP8G3u8Mr

— Mo (@mosobreezy) February 20, 2018
Wendy Williams worry about your marriage pic.twitter.com/qPHYTTG7tB

— jr (@jr39475490) February 20, 2018
Every time I try to take up for Wendy Williams she turns around and says something stupid again. How could anyone ever say Beyoncé needs auto tune to perform live. In what life? This woman performed Love on Top PREGNANT! With full choreography! Slander will not be tolerated. pic.twitter.com/VdqjNzGvdr

— kila ✨ (@kila_moore) February 20, 2018
Black Men like Wendy Williams are always bashing Black Women and their gifts. How dare she say Beyoncé needs auto tune.

— HEEellooo, I do apologize but (@EmmanuelRudolph) February 20, 2018
For Wendy Williams to put Beyoncé in the same sentence as JLo, Fergie, and Janet vocally speaking is the most atrocious comment I have EVER heard. pic.twitter.com/XHnx4jdMfp

— Check 4 a neck (@Beyoncemyroc) February 20, 2018
Wendy should know by now, that when she comes for Mrs. Knowles-Carter, the Beyhive is always waiting in the wings ready to sting her to the upteenth degree.